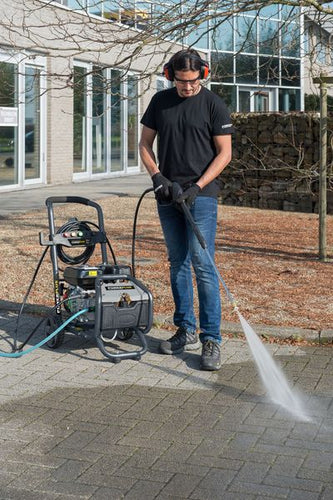 This high pressure cleaner can literaly be used anywhere, because you don't need any power supply.
The powerful device with 208cc motor delivers no less than 173 bar and has a water flow rate of 540 litres/hour. It removes even the most stubborn dirt and can handle any cleaning task around the house and garden. Its eco driver turbo engine makes it a very highly performant pressure cleaner with a low fuel consumption and low vibrations. The easy start enables the motor's start in any condition.
The POWXG9009 has a self-priming function which allows the use of alternative water sources such as rainwater butts. When you want to work with detergent, you can choose the 2 litre detergent tank or use the extra tube for separate soap supply. The temperature relief valve will prevent an overheated engine and secures a safe use.
The high pressure cleaner with sturdy frame and steel lance comes with 4 spray nozzles, a soap nozzle, a detergent suction tube and a self-priming tube.