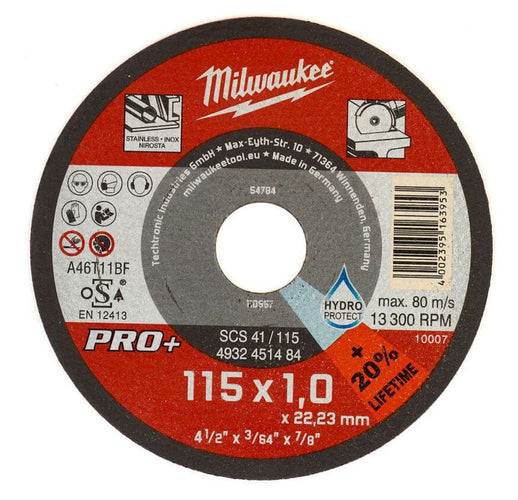 MILWAUKEE 115MM X 1MM SCS 41 PRO+ THIN METAL CUTTING DISC - CODE 4932451484
Milwaukee accessory code number : 4932451484


Genuine Milwaukee accessories.
Milwaukee Type - how to find the right disc:
Material : S = steel.
Application : CS = cutting slim.
Design : 41 = flat.
Diameter : 115mm (4.1/2").
Extended life and moisture protection with PRO+.
Special mixture delivers:
Up to 20% longer lifetime.
Up to 20% less dust development.
The new formula HydroProtect prevents the age-related loss of performance and still provides almost the entire performance after months of storage.
Benefits:
Reduced costs per cut and shorter set up times.
Reduction of wheel deterioration during the storage interval.
Longer lasting high-performance.
Applications: Iron and sulphur free top line thin cut-off wheels for all steels. Best suitable for stainless and acid-resistant steel, hardox, heat-resistant cast steel, spring steel, mild and tool steel.
Characteristics: +20% more life, 50% less cutting time, 50% less dust. Lower material loss.