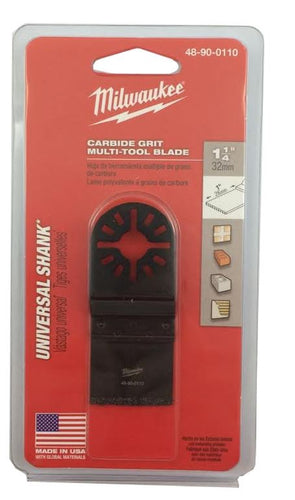 Milwaukee Carbide Grit Multi-Tool Blade 1-1/4 in.
Model Number: 48-90-0110
Designed with a Universal Shank* Milwaukee Multi-Tool Accessories are compatible with most professional grade multi-tools. With a durable tungsten carbide grit edge, the 1-1/4 in. Carbide Grit Multi-Tool Blade is ideal for cutting abrasive materials such as brick, cement, and plaster as well as grout removal.
Features:
Carbide Grit for Grout Removal and Cutting into Brick, Cement, Drywall & Plaster, and other Abrasive Materials
Universal Shank* Compatibility with Most Professional Grade Multi-Tool Brands: Milwaukee, Bosch, SKIL, Makita, Craftsman, Fein, Ridgid, AEG, Ozito, Ryobi
Adaptor (48-90-0000) available for Porter Cable, Black & Decker, and DeWalt Multi-Tools. All Brands are registered trademarks of their respective owners.
Specifications:
Width: 1-1/4 in.(32 mm)
Usable Length: 1 in.(26 mm)