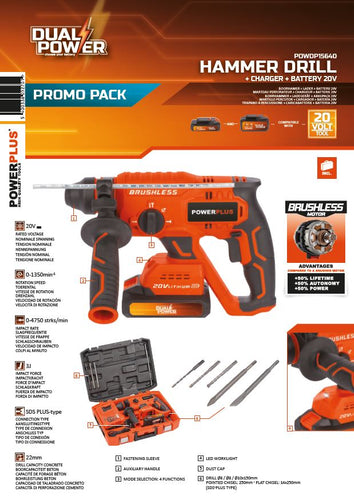 HAMMER DRILL 20V + CHARGER + BATT 20V - POWDP15640
With this cordless 20V hammer drill set from Dual Power you can handle
every material and job.

POWDP15630 hammer drill
You can use the 20V hammer drill to drill, hammer drill, impact drill and
chisel in wood, stone, steel or brick, and this at 4750 strokes per minute. The
efficient brushless motor makes the tool extra durable and provides it with
an impact force of 3 joules. It can be used for drilling in harder materials, as
well as for lighter chiselling tasks. Working comfortably is guaranteed thanks
to the low vibration level and the soft grip that fits your hand perfectly.
POWDP9011 20V 2.0Ah battery and charger POWDP9051

A 20V battery with a capacity of 2.0Ah and a charger are included, which
means you can start working immediately. The battery is compatible with all
20V tools from the Dual Power range.

The charger is designed for the 20V and 2x20V Dual Power batteries. It can
be used for the new generation of batteries, as well as for the older generation.
That way you can easily keep on using your other Dual Power batteries.

The Dual Power hammer drill can be stored together with the battery and
charger in the storage case.