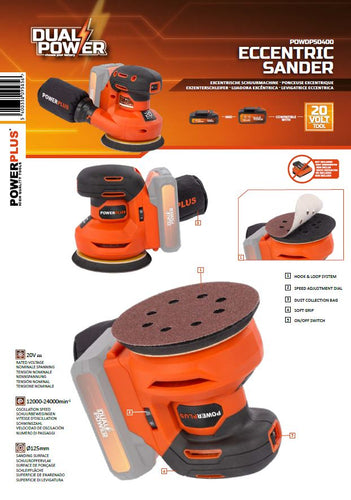 ECCENTRIC SANDER 20V - POWDP50400

This light eccentric 20V sander from Dual Power is ideal for fine finishing
and sanding of flat and curved workpieces. The round sanding plate has a
diameter of Ø125 mm.

The efficient motor achieves up to 24.000 sanding strokes per minute. This
provides the compact sander with sufficient power for most sanding jobs.
The soft-start motor gradually builds up the speed. This is why the cordless
sander does not make any abrupt movements and, therefore, can always be
safely controlled. The soft grip ensures a good grip during sanding.

The sanding pad is equipped with a hook and loop system. This allows you
to change the sandpaper in no time at all. Excess sanding particles and dust
are removed to the dust collector through the openings provided for this
purpose in the sanding surface. The built-in microfilter prevents dust from
escaping from the dust collector.

Separate battery and charger
The battery and charger are not included. They are sold separately and
are suitable for the entire Dual Power range.

Which Dual Power battery to use?
This 20 V sander is compatible with both a 20V and a 2x20V Dual Power
battery. Using a 2x20 V battery provides a considerably longer working
time compared to the regular 20V version.