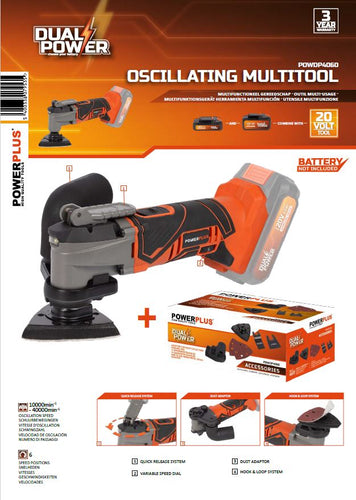 OSCILLATING MULTITOOL 20V LI-ION - POWDP4060

With this cordless 20v oscillating multitool of powerplus you can finally take care of a multitude of small sanding and sawing jobs in the house. The
scraper enables you removing adhesive or residues from the floor. The quick release system makes switching between saw blade and sanding pad
fast and simple. No special key or other tools required: you can quickly change your task.

The powdp4060 oscillating multitool can be set at 6 different speed positions by turning the speed dial. The result is that you always choose the
perfect speed (from 10.000 And 40.000 Min-1) for each job. An extra side handle and the soft grip come in handy for more grip and increase your
comfort, which also means more accuracy in your work. The practical led worklight makes the job even easier.

A dust extraction element allows discharge of the sanding dust via a vacuum cleaner for better visibility on a clean working surface. Besides the
sanding pad and a 0,6mm scraper, this powerplus equipment comes with a saw blade for wood and one for metal (32mm). Moreover you dispose
of G60 and G80 sandpapers.

Take the device everywhere you want, no cables will disturb you. You simply click the 20v battery on this multifunctional tool: the battery fits every
20v dual power machine. You will thus also save money, because you don't have to buy a new battery for every tool. This battery is not included.